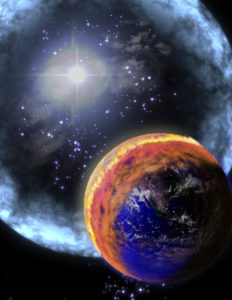 "God hides Himself, putting aside His essential infiniteness and withholding His endless light to the extent necessary in order that the world may exist."
– Steinsaltz  "The Thirteen Petalled Rose" page 37
"The great Tao flows everywhere.
All things are born from it,
yet it doesn't create them.
It pours itself into its work,
yet it makes no claim.
It nourishes infinite worlds,
yet it doesn't hold on to them.
Since it is merged with all things
and hidden in their hearts,
it can be called humble.
Since all things vanish into it
and it alone endures,
it can be called great.
It isn't aware of its greatness;
thus it is truly great."
– Lao- Tzu "Tao Te Ching A New English Version" by Stephen Mitchell p.34
"The cosmic order does not necessitate pain per se. It does necessitate, however, the possibility of pain. This was the 'ransom' paid by 'life' in its escape from the bottomless cosmic void. Humankind chose the Tree of Knowledge/Potential at Eden,rejecting zero growth" and embracing Life with its eternal promise of uncertainty, growth, free will and the infinite Potential of the universe of which human consciousness is a precious part."
– David Birnbaum, "Summa Metaphysica I"
SOME THOUGHTS RELATED TO MANKIND IN OUR EVER CHANGING UNIVERSE
Infants, and young children are basically helpless other than to communicate with piercing screams their need for food, milk, or comfort.
As adults we look to ourselves to meet our own needs but by necessity we also need to take into account that in our complicated society we are totally dependent on others to grow our food, purify our drinking water, produce electricity, build our roads and bridges, rescue us if our homes catch on fire, maintain civil order, protect us from terrorism, educate us, and heal us when we are sick. We also depend on others to hire us, or to buy our products, to love us and enable us to establish families and to meet a wide range of emotional, physical and spiritual needs.
So it is perfectly understandable that faced with continued existential anxiety for the health and well beings of themselves and their children that our long ago ancestors, wherever they lived on planet Earth, began to imagine, dream of, and yearn for some kind of supernatural power(s) to whom they could appeal  (as they once had as infants and small children) to protect them, help them, support them; and to give them good health, peace and prosperity; while simultaneously confounding and weakening/destroying any of their fellow human beings who actively desire, plot and execute plans to exploit, enslave, and or kill them.
Throughout the past 10,000 years, human beings have shown great ingenuity, and creativity in developing simple to complex rituals involving the construction of huge buildings; plant, animal and human sacrifice; a variety of celebrations and fast days and prayer in an attempt to appease the gods, to seek their support, and to show continued good will (money in the bank as it were) against the day when the individual/family/group/nation in question would desperately need divine intervention to end a drought, heal them from illness and or stop their avowed enemies far from their borders.
In more modern times, mankind is less vulnerable to devastation by nature as we have trucks to bring in life saving supplies and emergency medical assistance.
But, as we all know, these same trucks in the hands of others can cause unspeakable amounts of pain and destruction: Think Nazis; think communism under Stalin; think Cambodia under Pol Pot; and think the horrors of the genocide of both the Holocaust in Europe and in Rwanda to mention just a few of the historical horrors human beings in all corners of the world have caused and endured in the last 75 years.
There is, therefore, every reason for modern people to feel the same need for divine comfort as did our ancestors.
But for modern college educated American young adults whose heads are swirling with facts and theories related to science, evolution, free will, the misuse of religion in the past to condone slavery and the power of the ruling classes, not to mention the misuse of religion today to deny women and gay people full civil and human rights… it is fully understandable why religion and religious ritual is viewed by many to be, at best, a support/crutch for those less educated, less prosperous and, without doubt, much less sophisticated.
And yet………………
And yet modern science….. while it cannot and will not ever confirm or support the concept of the existence of God….. is nonetheless coming ever closer to realizing that given the complicated physics that existed at the time of the Big Bang and the seconds, hours, and years that followed…that it is progressively harder to assert that all this evolution, and all that followed over the next 13.5 billion years leading up to the development of human consciousness here on earth was 100% totally based on Randomness.
And a growing number of those whose professional career is focused at looking at this very question are beginning to publicly talk about the fact that since it is so statistically improbable that everything in the universe is due to randomness that other possibilities including Creative Intelligence need to be considered, at least theoretically.
This theoretical concept will, however, continue to be rejected out of hand by those whose "religious beliefs" compels them to continue to pay homage to the god of "Randomness as the mother of all creation, and the father of all change in a universe devoid of meaning".
The counter concept that statistically is more probable than pure randomness is that somehow somewhere there is a creative Life
Force seeking through trial and error, and, yes, sometimes through the  pure randomness of biological evolution, to have brought human consciousness to the current point where our knowledge of the world is growing exponentially, and our Potential to reach out to the stars, as well as a deeper understanding of how our brains work has never been higher.
Our minds are never a vacuum, and we as human beings tend to become what we think, feel, and believe.
The only chance we as a human race have NOT to destroy ourselves and the Earth on which we live, is to recognize our Potential for evil, as well as our Potential for love, and the fact that we have the Potential of Free Will and Free Choice.
Prayer then, rightly viewed, is a very valuable form of mediation that pulls us away from the negative siren call of anarchy, randomness, and existential dread, and points us towards a view of ourselves and our world in which we seek to balance all the forces that swirl in and around us..seeking balance, beauty and peace as we struggle to live up to the Potential that lies within each of us to do our small or large part in healing ourselves and the world in which we all co-exist.