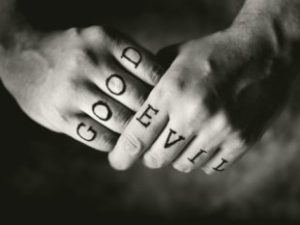 A Brief Commentary on the Question of Good and Evil based on David Birnbaum's "Summa Metaphysica 1″….A Modern Day Midrash
.
"In the Beginning"–actually before "THE beginning" there was (no)thing. No life, no movement, no understanding, no gasses, no chunks of matter hurtling through the cosmos, no explosions, no heat, no cooling down and no light; and no human consciousness to appreciate what was, and what was about to happen.
.
.
What was before "the beginning" was Pure Potential which our scientists and many religious leaders today imagine that all that ever was, is, or will be was somehow or other contained in an unimaginably tiny microscopic speck of energy/matter…. self sufficient unto itself, quiet  but coiled like a very tight spring and waiting for some deep internal process inside itself to express its latent potentiality.
..

And when that fateful moment arose for this latent Potential to rise into existence, it did so in and by an evolutionary process of what is now commonly referred to as the Big Bang.
..

The big bang began and set in motion a process of evolution that is still going strong today…some 15,000,000,000 years later with the creation of uncountable galaxies, stars, planets, moons, meteors, black holes, space dust, and the very concepts of space and time; as well as our own planet earth teeming with life, and human beings in constant strife with nature and other human beings as human consciousness  struggles to understand its origins.
..
And as scientists continue to map out theories of what happened in the seconds immediately following the big bang, the big unresolved and fundamental question that remains is "Whether this entire process was/is completely random? Or whether the Big  Bang was started, guided, and maintained by Potentiality unfolding through the active creative intelligence of a Life Force…that has as one of the arrows in its quiver, as it were, the condition of evolution through time within an overall framework?"
.
In  historic Jewish tradition, the Life Force that activated the potential at the core of the big bang is named "God", or in Hebrew, as one of its many names "Adon Olam"…the "Master of the Universe."…with whom we as human beings have an ability at some minimal level to understand and to be in communication with.
..
Over time this "communication" has been envisioned as having taken place in, through and by dreams, animal sacrifices, (and tragically also by human sacrifices), song, dance, mind altering drugs, and a wide range of religious and spiritual beliefs, doctrines, actions, celebrations and rituals.
..
Jewish mystic belief as well as the Torah itself, takes us back to a time when God spoke to Adam and Eve, Noah, Abraham, Isaac and Jacob, Moses, and later in a more subdued form to the Hebrew Prophets.
..
And from this "Speaking" Jewish mystics, philosophers and religious leaders have concluded that it was God's need to speak, and to have someone else there who could understand and to be, in Martin Buber's terminology a real "Thou" to God's "I" that was the motivation for God to unleash the Potential…. the ignition of which produced the big bang and all that followed.
—————————————————————————————————————-
"The Garden of Eden tale, which is fittingly placed at the commencement of the biblical narrative, is a philosophically exquisite theodicy/philosophy wrapped in an image-ladden, but ultimately sophisticated, parable."
..
("Summa  Metaphysica 1", David Birnbaum, page 87)
..
"Midrash Rabbah, Genisis 49, no. 20 portrays Abraham as expostulating with God: 'If you want a world, you will not have justice; if it is justice you want, there will be no world. You are taking hold of the rope by both ends—you desire both a world and justice–but if you do not concede a little, the world cannot stand'".
..
("Summa Metaphysica 1, David Birnbaum, pages 86-87)
——————————————————————————————————————–
And God wished to have a "Thou" to relate to his "I" and in doing so he released the power of pure potential into the world through the evolutionary process of the big bang, and the first creatures that came into being were the angels.
..
And how marvelous they were: Quick to Praise, attentive, perfect work ethic, never disagreeable, and so beautiful and graceful to watch in flight.
..
But from God's point of view, talking to the angels was like flipping a coin to decide whether He or satan would pay for beer; when there was only one coin, and that one coint was manufactured to always land head's up; and God always got first call….a wonderful scenario if one wanted 100% security and never wanted to buy satan a beer (not a bad choice because a drunk satan was even more trouble than a sober one); but totally unsatisfactory if one wanted more than, in Martin Buber's terms, an
"I- It" relationship with the world.
..
And we know this because we are here and because God "wanted" a true "I Thou" relationship with at least some small part of His massive universe—a relationship not with dead matter, or with pre programmed angels, but with real live and dynamic creatures with minds of their own and thus quite capable to respond to God with a "Yes" as well as a "No"; or out of the complexity of their beings respond with a "Yes/No" or a "No/Yes"; or the dreaded "No/No"; or the highly desired and valued "Yes/Yes".
..
And here we come to the crux of the matter,
..
God could not have a true "I Thou " relationship with humankind IF he created them like the angels: beings who lived forever without suffering, violence, illness or natural or man made evil including death and the pre-recognition of death.
..
In fairness to God, He tried his best to struggle with this conundrum, and with his deeply felt desire to protect his creation of mankind from suffering and pain, He at first pulled back from immediately establishing an "I' "Thou" relationships with Adam and Eve, and placed them instead in the protection of the Garden of Eden as a kind of trial run to see where evolution and their own free will would take them.
..
God wanted to see whether his newly created human beings would opt to be like the angels and live eternally in peace, tranquility and total comfort by eating the fruit of the Tree of Life, or whether they would on their own choose freedom over comfort; autonomy over dependence; adventure over inertia; mortality and an "I Thou" relationship with God, rather than immortality and an  "I It" relationship with God by being self willed, and rebellious and eating from the Tree of Knowledge.
..
And God having just won by a coin flip another bet for free beer from Satan, sat back and waited to see how the drama he had constructed would conclude.
..
And to His immense satisfaction, Adan and Eve were soon growing their own food outside the garden.
..
And so we come to the question…as all of us who delve in philosophy must:
..
"And how is it possible, therefore, for an all present, all powerful and all good God to allow his creatures to suffer pain, misfortune, illness, grief sadness depression and death? And how is it possible for this very same God to allow natural and man made evil to cause so much needless pain and suffering to so many people?
..
And when we look at the issue of God and evil in this light, we come to realize that by necessity God had no choice.
..
If God was to fulfill his desire to have an authentic "I Thou " relationship with human beings and if mankind was to have an authentic "I Thou" relationship with God, as decided at the dawn of human history by Adam's and Eve's choice to eat from the Tree of Knowledge then natural and man made evil would hence forth, by definition, be part of the world in which we live.
..
It is, of course, entirely possible that many of our fellow human beings would, if they had the choice, have voted for Adam and Eve to have stayed in the Garden, and for human history never to have gotten started and perhaps for the latent Potential that fueled the big bang to never have happened.
..
But these choices have already been made, and as there is no turning back the clock, our task is to understand that the Potential in all of us; in the universe; and in our relationship with each other and with our Creator Is huge, Is still very much untapped and Is available to each and every one of us to do much good, and to bring much joy and enlightenment to a world very much in need of our activating the Potential for good that is in us and all around us.
..
How we do this is clearly a much more valuable, and critically important question than the endless and totally non constructive academic debate in which we feel sorry for ourselves and fantasize having a God who would allow us to have both our freedom and autonomy when convenient and to have the Garden available to us when desired, and to be angry and dismissive to the point where we simply no longer see the Potential that created the world and continues to sustain it.